I wish I was as organised as Mike Nicholls, I've just read his review of 2009 - what a comprehensive set of stats. I can match that for the Kev Perry series, as I have kept records over the last 3 years, but I'd have to go back to diaries from the 70's for that much info about my matches.
I haven't ventured out since 20th Dec, I was going to get out in the week but my Dad died suddenly in the very early hours of the 29th, so making sure Mum was OK came before fishing, even if I'd have felt like going, which I didn't.
I'd booked into this match before Xmas, along with long term angling mate, Paul Faiers, I was thinking of cancelling, but thought the fresh air and a few hours out on my own my do me some good.
I guessed that we'd be breaking ice, so spent some time yesterday buying rope and making a 'top of the range' ice breaker, using a Class 158 DMU (type of train) brake block as the weight.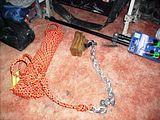 Minimal bait was going to be required, so a few maggots, pinkies, casters and squatts were obtained and shared out between Paul and myself, we both had some bread as well.
The Bullock Farm breakfast was up to its usual filling standard and discussion then turned to the pegging, Tom Thick was picking out the best pegs to peg in, but there were too many anglers for everyone to have some ice free water. So it was decided that 6, 11 and 27 would be in, the rest of the pegs being around the main part of the lake which was mainly ice free. I really didn't want to draw any of these, which meant, that as I opened my ticket I saw No 27 in Tom's shaky hand writing. Tom managed to draw 17, I reckon he pressed extra hard with the pen for the braille effect
I got to my peg and realised just how thick the ice was, over an inch thick, it took some breaking and I really didn't fancy my chances, seeing as so many good pegs were ice free. I set up two rigs, a 0.3G Jean Desque with 0.13 and an 18 808 (just in case) and a Malman winter wires with a 0.07 hooklength and a 24 Gamma Green.
I started a few minutes late, because the ice breaking took so long, not that it mattered, feeding tiny piches of liquidised bread, with punch on the hook saw zero action, like wise the squatt and pinkie line. Its been a while since I have had the feeling that I wouldn't catch at all, but I had it today after an hour and a half. I took the short walk to peg 26 where Paul was, he'd had 3 bites and one goldfish in the net.
I went back and tried again, but really didn't feel confident, even of getting a fish in the late stages of the match, perhaps my mind wasn't fully on the fishing, especially without a bite to show for my efforts. I packed up half an hour before the end, something I don't do very often at all. Not sure when I'll be out again, as I have the funeral to arrange this week, I think I'll wait until thats happened before fishing again.
Only five weighed in, they all picked up money in some form of overall or silvers payouts.
1) Dave Evans 15.03 peg 11 (Two carp (one lump), a roach and a crucian on bread)
2) Tom Thick 03.05 peg 17
3) Bill Ferris 00.12 peg 24
4) Paul Faiers 00.09 peg 26
5) Steve Evans 00.04 peg 18
6) All the rest DNW
Just something that may help avoid amaggot escape, I went into the garage just before Xmas and opened the fridge door, maggots and pinkies on the loose and the liccy in the freezer defrosting. Fridges stop working if the ambient temperature gets too cold, so its worth checking if you have a bait fridge in an unheated, garage or shed.